Welcome to the City of Belleville!
Did you know that the 48111 Belleville zip code encompasses not only the City (2.2 square miles), but also Sumpter and Van Buren Townships, as well as a small portion of Huron Township? City addresses only have 2 or 3 digits, with the only exceptions being Owen Intermediate School (45201 Owen St.) and the Belleville Church of God (45170 Hull Rd.). If a Belleville address has more than 3 digits, and is not one of the exceptions listed, it is located in either Van Buren, Sumpter, or Huron Township.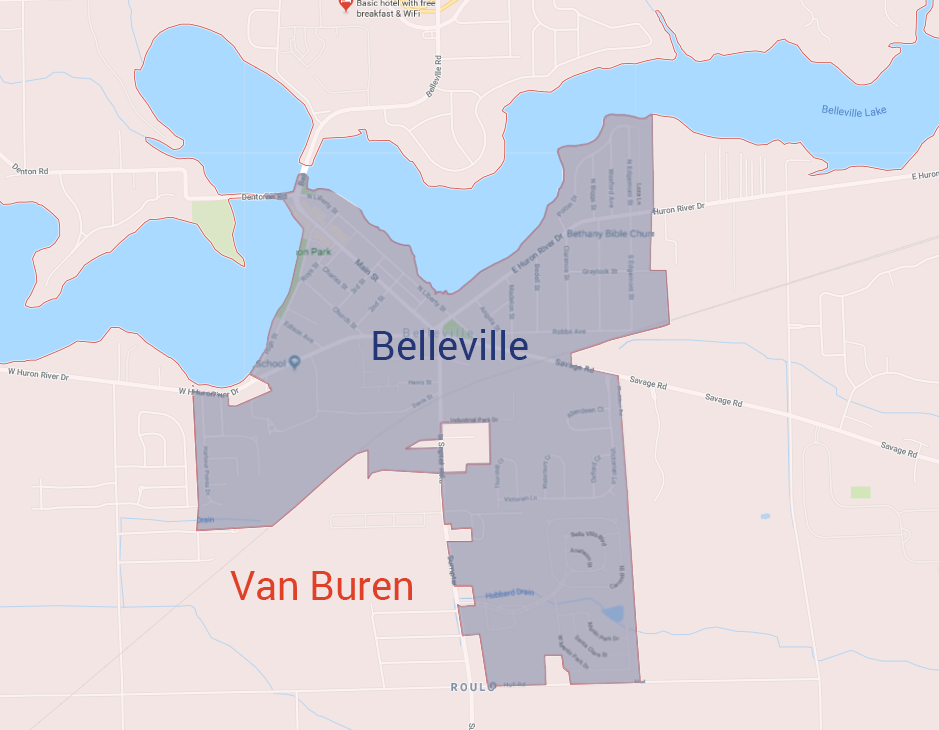 Only the streets listed below are in the City of Belleville's corporate limits:
Aberdeen Ct.
Anaheim St.
Angola St.
Astor Blvd
Bay Pointe Dr.
Bedell St.
Bell Cove Ct.
Belle Villa Blvd.
Biggs St.
Brain Ave
Breakwater Ct.
Breakwater Dr.
Capistrano Ct.
Carmell St.
Charles Ct.
Charles St.
Church St.
Clarence St.
Columbia Ave.
Davis St.
Dos Rios St.

Edison Ave.
Edgemont St.
Estrada Dr.
Fifth St.
First St.
Fourth St.
Greylock St.
Harbour Pointe Dr.
Harbour Pointe Ct.
Henry St.
High St.
Hull Rd
Huron River Dr.
Industrial Park Dr.
Liberty St.
Light Tower Ct.
Light Tower Dr.
Loza Lane
Madelon St.
Main St.
Menlo Park Dr.
Owen St.

Oxford Ct.
Potter Dr.
Robbe Ave.
Roland St.
Roys St.
San Carlos Dr.
Santa Clara St.
Savage Rd.
Second St.
South St.
Sumpter Rd.
Third St.
Thornhill Ct.
Victorian Lane
Victorian Ct.
Wabash Ave.
Waterbury Ct.
Wexford Ave.
If you do not see your street listed above, you don't live in the City limits. Please click on the links below to help you find your municipal service provider: